Kol-Seal®
Kol-Seal is a lightweight granular solid with a specific particle-size distribution for maximum bridging efficiency. It provides an economical cementing system with low-density lost circulation control and superior scouring action.
Performance Benefits:
Insoluble in oil
Does not soften at high temperatures
Does not appreciably change the thickening time of cement
Provides slurries that have higher compressive strengths at all ages, compared to slurries containing other lost- circulation and extending additives
Compatible with most other cement additives
Does not require complicated mixing equipment or procedures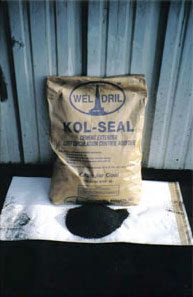 Kol-Seal is used as an extender to provide a lightweight, high yield slurry. Because of its insolubility in low surface area Kol-Seal does not require large amounts of additional water. (The additional use of water with most extenders materially reduces the strength of set cement.) The amount of Kol-Seal used varies from 5 to 50 lb. per sack of cement. The optimum proportion is normally between 10 and 25 lb. per sack of cement.
Every 10 lb. of Kol-Seal added to cement will increase the slurry yield .17 cubic ft. per sack of cement, including water. Normally, one (1) gallon of water is used for every 25 lb. of Kol-Seal.
| | |
| --- | --- |
| Absolute Density | 80.8 lb/cubic ft |
| Absolute Volume Occupied by 1 lb | 0.0926 gal. |
| Specific Gravity | 1.30 |
| Water Requirement | 1 gal/25 lb |
| Melting Point | > 1,000 degrees |